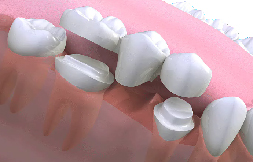 Dental bridges are an effective way in filling gaps between teeth. If you have missing teeth and do not wish to have dentures or implants then bridges are the choice for you.
What exactly are dental bridges?
Bridges are false teeth, that are anchored to neighbouring teeth to 'bridge the gap'.  Because they are made of porcelain, they look like natural teeth and they are also fixed in place, unlike dentures, so you will probably forget they are even there!
When are they needed?
Having large gaps between your teeth can be very unsightly and can have a dramatic effect on self-esteem. If you have had a tooth extracted and don't like the thought of having a gap between your teeth then bridges are an excellent choice. They can be placed not only at the front of your mouth, but also at the back.
Losing a tooth can have many effects on you mouth:
Unstable bite
Shape of your face
Speech
Smile
All these things can be dramatically improved with a bridge.
What are they made of?
They can be made with a wide range of materials and here at Claremont Dental Practice we only work with the best dental technicians who use high quality materials. They can be made of porcelain to give an extremely good appearance (for instance when used at the front of your mouth), or from porcelain fused to metal for added strength when replacing a back tooth.
Can I replace my old bridge?
Yes. Older dental bridges which may not match your tooth colour or have black lines at the gum level can easily be replaced by our high quality product to help make your smile natural again.
Find Us
57 Crown Road,
Twickenham,
Middlesex TW1 3EJ
Opening Hours
Monday: 8am – 6pm
Tuesday: 8am – 6pm
Wednesday: 8am – 6pm
Thursday: 8am – 6pm
Friday: 8am – 4pm (4-6pm for hygienist appointments only)
Saturday: 9am – 1pm