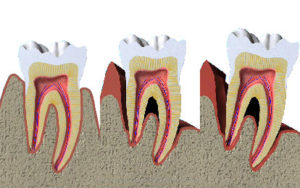 Periodontal disease affects the gums, bone and supporting structures of the teeth and is a major causing factor of premature tooth loss. In essence, these supporting structures are gradually destroyed over time, therefore robbing the teeth of their foundations, causing them to loosen and eventually fall out. Bacteria in the mouth build up on debris and food deposits, especially where brushing and interdental cleaning (cleaning between the teeth) is absent or irregular.
The first stage of gum disease usually starts off with bleeding gums (gingivitis). This is caused by bacteria irritating the gums and causing inflammation within them. Bleeding can occur on its own, but most commonly occurs during brushing and flossing. This is preventable and is easily treated. Regular hygienist appointments will reduce these deposits regularly and therefore reduce the onset of gingivitis.
If untreated, gingivitis can progress into a more severe form of gum disease (periodontal disease). The gums start to lose their attachment to the teeth, resulting in gaps (or pockets) under the gum line which can catch more and more bacterial deposit. This in turn gradually deepens the pockets, until the bone around the teeth becomes affected. This can lead to gradual bone loss, which can leave the teeth unsupported to such an extent that they can start to wobble and in very advanced cases, fall out.
The main risk factors of periodontal disease are poor oral hygiene (not cleaning our teeth properly), smoking and genetics (it can run in the family).
If you are concerned about your gums please do not hesitate to speak to one of our dentists, who can arrange a referral to our in-house periodontist. Our periodontist can deep clean the teeth, which can close the gum pockets, therefore reducing the risk of bone loss dramatically.
Please call us on 02088924000 to book a consultation.
Find Us
57 Crown Road,
Twickenham,
Middlesex TW1 3EJ
Opening Hours
Monday: 8am – 6pm
Tuesday: 8am – 6pm
Wednesday: 8am – 6pm
Thursday: 8am – 6pm
Friday: 8am – 4pm (4-6pm for hygienist appointments only)
Saturday: 9am – 1pm