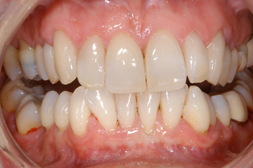 Dental crowns or 'caps' are restorations that restore badly damaged or weak teeth to their natural shape and colour. They can be used in any part of the mouth and can even be used to reshape front teeth and improve their appearance. They are fitted over the existing tooth structure and are incredibly strong and durable.
Why would I need a dental crown?
Weak teeth – if you have large fillings in your teeth or a large cavity, the remaining tooth structure can be extremely weak and liable to fracturing. A crown fits over this weak tooth and to an extent holds it together, making it far less vulnerable to breaking. We tend to crown most root filled teeth as standard as they can be very weak.
Discoloured teeth – If your tooth has been discoloured by having a large amalgam filling or has been root treated (which can leave your tooth looking grey and unnatural), crowns are an excellent way of masking up this discolouration. They are matched to your natural tooth colour and can hide even the darkest of teeth.
Broken teeth – if your tooth has suffered a breakage, crowns can effectively restore it back to its original shape.
What are crowns made of?
There are a variety of different materials used in dental crowns. Here at Claremont Dental Practice we aim to provide our patients with the finest, state-of-the-art range of materials available on the market.
Porcelain crowns – these are made entirely from porcelain and so achieve the best aesthetic result for any tooth. The porcelain is a special high strength and highly translucent material and so is the finest available material for a crown.
Metal-Ceramic crowns – these crowns consist of two layers, metal underneath and porcelain on top. These have added strength due to the metal base and are used in cases where the patient's bite is extremely strong.
Can I replace my old crown or crowns?
Yes. Older crowns which were made in the past most commonly are made of inferior quality materials as the crowns of today. They are easily removed and can be replaced by a crown of your choice. Many patients have old crowns which look discoloured or show black lines at the gum level. These can easily be replaced in order to immediately improve their aesthetics.
Find Us
57 Crown Road,
Twickenham,
Middlesex TW1 3EJ
Opening Hours
Monday: 8am – 6pm
Tuesday: 8am – 6pm
Wednesday: 8am – 6pm
Thursday: 8am – 6pm
Friday: 8am – 4pm (4-6pm for hygienist appointments only)
Saturday: 9am – 1pm