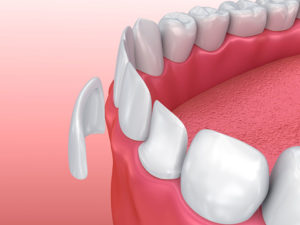 Spaces between teeth or chipped teeth can make us very self conscious when smiling. Porcelain Veneers are the restorations of choice to mask up discoloured teeth, re-shape teeth, fill in spaces between teeth or mask up small chips in teeth.
At Claremont Dental Practice, we pride ourselves in using top UK based laboratories to manufacture our porcelain veneers. Due to the high quality of the porcelain they use, we can establish a beautiful, elegant and highly aesthetic result.
They are placed and bonded after we have shaped the tooth surface first. We will choose a colour to suit your existing tooth colour, or if requested we can make them as white as you like. A lot of our patients opt for tooth whitening first to freshen up the colour of their existing teeth prior to veneer placement so the veneers can be matched up to the new tooth colour.
Veneers are made from a durable, highly aesthetic, natural looking porcelain, so much so that they can look completely life-like. They are completely customised and made by hand, to match the patient's existing teeth and smile. Additionally they are also stain resistant, so will always look good! Typically, the patient would book for an assessment so we can talk about what improvements we are aiming for, the possibilities and a predictable end result. It usually then take a visit to mildly prepare the teeth surfaces for the veneers, impressions produced and sent to our lab technician and then hand made and sent back to us within 2 weeks. In the interim we supply and fit temporary veneers (included within the price of the treatment plan).
If you are interested in veneer treatment please call our receptionist on 0208 892 4000 and make a booking. Payment plans are available, as with all dental treatments we offer. Don't forget you will get 10% off if you are a member of Denplan Essentials.
Find Us
57 Crown Road,
Twickenham,
Middlesex TW1 3EJ
Opening Hours
Monday: 8am – 6pm
Tuesday: 8am – 6pm
Wednesday: 8am – 6pm
Thursday: 8am – 6pm
Friday: 8am – 4pm (4-6pm for hygienist appointments only)
Saturday: 9am – 1pm