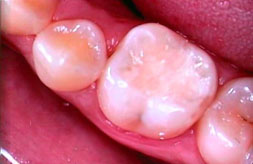 Most people have fillings of one sort or another in their mouths. White fillings are now the most popular choice for most of our patients. They can look extremely natural, so much so that no-one will ever notice that you have them!
What are they made of?
They consist of glass particles, synthetic resin and a setting ingredient. Here at Claremont Dental Practice we only use the highest grade of white filling material, ensuring high quality aesthetic results.
Are they as good as silver amalgam fillings?
Current white filling materials have been shown to be comparable in strength and longevity to traditional amalgam fillings. Unlike amalgam, white fillings actually stick or 'bond' to teeth and so have this added benefit. This quality is an extremely important one when filling teeth as it enables the dentist to remove less of the tooth structure when placing one of these fillings.
Are they safe?
Yes. There has been a long standing debate regarding the use of silver amalgam filling material due to its Mercury content. Although here in the UK, amalgam is still deemed as a safe material to use, many patients are opting for white fillings as they are completely Mercury-free.
In which cases can they be used?
If you need a filling, the chances are that it can be done using white filling material. It can be used effectively at the front of the mouth as well as on back teeth. If the tooth requires a very large filling, it is usually better to treat the tooth with a crown.
Can I change my old white fillings?
Old white fillings, like enamel, have the propensity to take up dietary stains. They can easily be replaced and polished to look more or less invisible again. If you have old fillings you don't like the look of, we can easily replace these in usually one visit for an instant cosmetic result!
Can I change my old silver amalgam fillings to white?
Yes. This is a very straight forward procedure and can transform the look of your tooth to a natural one again.
Find Us
57 Crown Road,
Twickenham,
Middlesex TW1 3EJ
Opening Hours
Monday: 8am – 6pm
Tuesday: 8am – 6pm
Wednesday: 8am – 6pm
Thursday: 8am – 6pm
Friday: 8am – 4pm (4-6pm for hygienist appointments only)
Saturday: 9am – 1pm